All of the reporting software I've used has it's strengths and weaknesses. Here is a quick overview of Tableau vs Xcelsius and SSRS.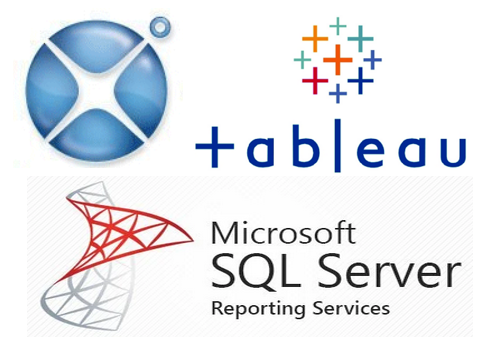 Xcelsius – a dashboard tool
Xcelsius Strengths
Looks great – has the 'wow' factor for any first time report viewer
Flexible – there are many different dashboard components
Easy to use – it's driven from an Excel spreadsheet. Each dashboard component needs to be joined to Excel cells. Even a complete beginner can do. Excel skills are actually more important than knowing how to use Xcelsius
Xcelsius Weaknesses
Performance – it performs poorly with only a few thousand lines of data behind it. Therefore we often need to pre-aggregate the data. This is manual.
Automation – no
Exporting – the actual dashboards are easy to export but it's not possible to export the raw data. Users often want to export the data into Excel
Excel – the data source has to be Excel
Tableau
Tableau Strengths
Appearance – visually appealing, great for showing trends over time, great for comparisons
Data source integration – it sits on top of a wide variety of different databases/data sources, almost every type you can think of which is in fairly widespread use. This includes text files (csv, txt), SQL, SSAS, Essbase, Oracle and anything with an ODBC connection, plus a few others
Flexible – create Dashboard with parameters and filters making it very simple for a user to get to the data they want to see. Many different chart types are available.
Drill down – actions enable simple navigation from dashboard to dashboard. It's simple to download to Excel. Using the URL actions you can link easily to any webpage or any report accessible via URL. This post shows how to drill from Tableau to SSRS.
Automation – yes when using Server OR when connecting to a live data source
Tableau Weaknesses
Lack of controls – doesn't have any controls such as dials and gauges which are generally associated with dashboard software
Doesn't handle hierarchical data well – this can cause problems when filtering as it doesn't recognise the hierarchy making filtering close to unworkable for the users and the fact it's not possible to 'clear all' filters enabling the user to start again when using complex filters
Unable to link parameters so the value of 1 parameter alters the available values of the next parameter – i.e. setting the available values of the end date based on the value selected in the start date
SQL Server Reporting Services (SSRS)

SSRS Strengths
Flexible reporting – SQL or MDX generally provides the data
Parameters / Filters – simple to create to enable the user to see only what they want to see
Exporting – very easy to export into Excel, csv, pdf, etc
Automation – yes, pulls directly from a database / cube
SSRS Weaknesses
Appearance – it's only good at producing tabular reports, the built in graphs are not great
Performance – aggregations happen at run time, therefore it can be very slow. This depends on the query optimisation and volume of data
No Dashboards – this isn't a dashboard reporting tool
Qlikview is one of Tableau's closest competitors and, although I'm far from a Qlikview expert, I have used it briefly and have written a post on Tableau vs Qlikview.
I admit this comparison isn't exactly a like with like comparison. Each software has a slightly different use, although they all are within the generic report software market. I was sent a link giving a brief comparison of some dashboard software. Not all are suitable for those operating on a budget as some are dependent on Sharepoint (not cheap). However it could be informative depending on your reasons for reading this post.